August 24th, 2011
Editing Fiction Anthologies
Cat Rambo recently conducted a three-part interview with my wife Ann VanderMeer and me about editing anthologies and periodicals—for the SFWA website. Together, in our current editing phase, we have co-edited ten anthologies since 2007 and Ann acquired/edited fiction for Weird Tales magazine for five years. (This doesn't include a myriad of projects dating back to the 1980s, for both of us.)
Here are the links:
Part I: "You also have to be very detailed oriented. You need patience and a belief not only in yourself but in your writers and your reading audience. Give the readers the opportunity to join you on the adventure when you discover the fiction that you love."
Part II: " The truth is working on an anthology is like an obsession to me, and the more difficult the execution of the idea or focus, the more I become locked in on it to the exclusion of all else. This is good on one level and fairly scarring on others. I don't necessarily recommend it as an approach, but it does teach you a lot."
Part III: "You have to have diversity in every project, even ones with a narrow scope, otherwise it just becomes the boring same old same old. By diversity, I am not just talking about the writer, but the story itself–the type of story and how each writer approaches their fiction. The key to balance in anthologies is being widely read and also knowing as many writers as possible so when making solicitations you don't just go to the same old names."
Added to that I'd point to my blog entries about anthology editing, which can be found here:
What Do You Look For in an Anthology?
(Also see: Maurice Broaddus's guest post on the subject)
I don't have much to add to all of this except to re-emphasize that editing anthologies isn't something anybody can do well or immediately become good at—it requires practice and a specific skillset, and it requires a different skillset to select reprints as opposed to originals. Even the skillset required to select new fiction from a slushpile or open reading period is different than that for soliciting new fiction from established writers. Not to mention the intestinal fortitude seeking out permissions can require. I wouldn't want to dissuade anyone from editing an anthology, but if you're going to do it…really think it through and ask yourself why you're doing it and what you hope readers will get out of experiencing the finished book.
There is also an element of continual learning involved, because anthologies can be so different from one another if you do a variety of them. So it's hard to say that we're "experts"—it's simply that having had these experiences we are presenting information and analysis of the various processes, which we hope might be of use to others. As ever, cross-ref this info to other sources of info for best results.
Below find the table of contents for three of our recent or forthcoming anthologies, with a few notes.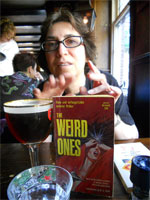 ODD? Table of Contents, edited by Ann & Jeff VanderMeer
"Is it odd or are you too normal?" – out in October 2011
Format: E-book only, with print version in 2011, collecting vols 1 and 2, through our Cheeky Frawg imprint
Focus: Unclassifiable fiction that didn't taxonomically fit in other projects but that we really liked, and which could loosely be described as surreal, absurd, horrific, etc. We wanted to have at least some international fiction as part of the mix.
Constraints: None, except that we wanted a mix of previously published (some hard to find) and new fiction, including translations.
Selection process: In part, identifying appropriate material from our many months researching our other anthologies, in part from Ann's experience editing Weird Tales.
Amos Tutuola – "The Dead Babies"
Gustave Le Rouge – "The War of the Vampires" (new translation by Brian Evenson and David Beus)
Jeffrey Ford – "Weiroot"
Leopoldo Lugones – "The Bloat Toad" (new translation by Larry Nolen)
Mark Samuels – "Apt 205?
Michael Cisco – "Modern Cities Exist Only to Be Destroyed" (published only in a limited edition previously)
Nalo Hopkinson – "Slow Cold Chick"
Sumanth Prabhaker – "A Hard Truth About Waste Management"
Hiromi Goto – "Stinky Girl"
Eric Basso – "Logues"
Edward Morris – "Lotophagi"
Karin Tidbeck – "The Aunts" (new story; previously unpublished)
Jeffrey Thomas – "The Fork"
Rikki Ducornet – "The Volatilized Ceiling of Baron Munodi"
Leena Krohn – "The Night of the Normal Distribution Curve" (new story; previously unpublished, translation by Anna Volmari and J. Robert Tupasela)
Amanda le Bas de Plumetot – "Unmaking" (new story; previously unpublished)
Karl Hans Strobl – "The Head" (new translation by Gio Clairval)
Caitlin R. Kiernan – "A Child's Guide to the Hollow Hills"
Stacey Levine – "Sausage"
The Thackery T. Lambshead Cabinet of Curiosities, edited by Ann & Jeff VanderMeer – published July 2011
Format: Print and e-book, through HarperVoyager
Focus: A modern treasury of the best of fantasy fiction, as expressed through the imaginations of both established and up-and-coming writers, finding a confluence and intersection between the commercial and the literary side of things, as well as between weird fiction, steampunk, etc. All of this had to also serve the central conceit of the cabinet of curiosities having belonged to our created character of Dr. Lambshead. We wanted the antho to reflect the current wealth of different voices in fantastical fiction as much as possible. Our mission was also to create a beautiful artifact that would be needed by readers in a physical form.
Constraints: Given the need for over 60 images and, ultimately, a total of 85 contributors, including the artists, we ironically had to be very careful with our budget, even though that budget was significant.
Selection process: We made lists of our favorite established and new writers for solicitation purposes, trying to strike a balance that would serve our focus best. We took into consideration specific requests from our artists as to what writers they would like to tell stories around their illustrations. We wanted a core of our favorite bestselling writers to help anchor the anthology. Elements of the random entered into the process through some creators declining our invitation and some having to drop out. In those cases, we evaluated the existing need and made a shortlist of the writers most likely to be able to provide the particular thing we now required. We tried to be flexible by allowing writers the option of creating a story based on an acquired illustration or writing the story and letting us match an artist to it. We also had a micro-fiction open reading period to allow unsolicited submissions. We could not allow general unsolicited submissions given the very narrow brief and the need for not just traditional stories but faux museum exhibit descriptions, etc.
(main fiction toc, minus illos)
The Electric Neurheographiton – Minister Faust
St. Brendan's Shank – Kelly Barnhill
The Auble Gun – Will Hindmarch
Dacey's Patent Automatic Nanny – Ted Chiang
Threads – Carrie Vaughn
Ambrose and the Ancient Spirits of East and West – Garth Nix
Relic – Jeffrey Ford
Lord Dunsany's Teapot – Naomi Novik
Lot 558: Shadow of My Nephew by Wells, Charlotte – Holly Black
A History of Dunkelblau's Meistergarten – Tad Williams
Addison Howell and the Clockroach – Cherie Priest
Roboticus the All-Knowing – Lev Grossman
Shamalung (The Diminutions) – Michael Moorcock
Pulvadmonitor: the Dust's Warning – China Miéville
The Very Shoe – Helen Oyeyemi
The Gallows-Horse – Reza Negarestani
The Thing in the Jar – Michael Cisco
The Singing Fish – Amal El-Mohtar
The Armor of Sir Locust – Stepan Chapman
A Key to the Castleblakeney Key – Caitlín R. Kiernan
Taking the Rats to Riga – Jay Lake
The Book of Categories – Charles Yu
Objects Discovered in a Novel Under Construction – Alan Moore
The Singular Taffy Puller – N.K. Jemisin
A Brief Note Pertaining to the Absence of One Olivaceous Cormorant, Stuffed – Rachel Swirsky
The Argument Against Louis Pasteur – Mur Lafferty
The Testimony of a Respected Lichenologist – Ekaterina Sedia
Kneel – Brian Evenson
Dr. Lambshead's Dark Room – S.J. Chambers
The Pea – Gio Clairval
Bestiary, edited by Ann & Jeff VanderMeer
Format: We will be shopping this anthology around soon, so the format is not yet known.
Focus: Showcasing the imaginations of some of our favorite writers within the structure of a modern bestiary of fantastical creatures.
Constraints: We wanted it to be an A to Z anthology, which one beast for each letter, with a couple of clever extras. We wanted to have the material in hand before we sold the book, edited, and not
Selection process: We made a list of some of our favorite short story writers, and then narrowed it down by asking the question, "Who is well-suited to this particular assignment based on past work?" and "Who might be well-suited despite it requiring the writer in question to play against their usual strengths?" We also wanted the antho to be roughly balanced between men and women, and to have a significant presence of non-US/UK writers.
A: "The Auricle" by Gio Clairval
B: "Bartleby's Typewriter" by Corey Redekop
C: "The Counsellor Crow" by Karen Lord
D: "Daydreamer by Proxy" by Dexter Palmer
E: "Enkantong-bato" by Dean Francis Alfar
F: "The Figmon" by Michael Cisco
G: "The Guest" by Brian Conn
H: "Hadrian's Sparrikan" by Stephen Graham Jones
I: "Ible" by Brian Evenson
J: "Jason Bug" by Joseph Nigg
K: "The Karmantid" by Karen Heuler
L: "The Liwat'ang Yawa and the Litok-litok" by Rochita Loenin-Ruiz
M: "Mosquito Boy" by Felix Gilman
N: "N—– (Bolus Barathruma)" by Reza Negarestani
O: "Orsinus Liborum" by Catherynne M. Valente
P: "Pyret" by Karin Tidbeck
Q: "Quintus" by Michal Ajvaz
R: "Rapacis X. Loco Signa" by L.L. Hannett
S: "Snafu" by Micaela Morrissette
T: "Tongues of Moon Toad" by Cat Rambo
U: "The Ugly-Nest Rat" by Eric Schaller
V: "The Vanga" by Rikki Ducornet
W: "Weialalaleia" by Amal El-Mohtar
X: "The Xaratan" by Rhys Hughes
Y: "Yakshantariksh" by Vandana Singh
Z: "Zee" by Richard Howard
&: "Ampersand" by Karin Lowachee
(Not shown: a creature whose name begins with invisible letter, written by an anonymous writer who is not one of the editors…)