November 1st, 2008
Jake Von Slatt/VanderMeer Steampunk Book from Artisan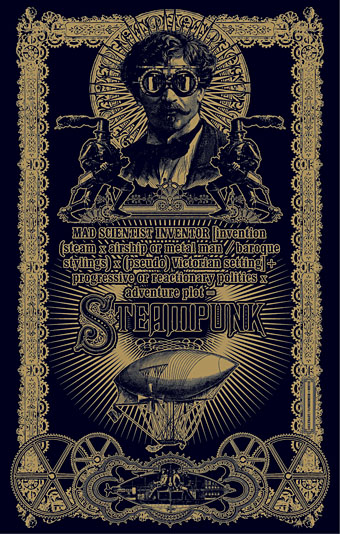 (John Coulthart's Steampunk design based on my equation)
As you may know if you've visited Jake Von Slatt's livejournal today, Jake and I have sold a book on Steampunk to Artisan Books. It'll be a highly visual exploration of Steampunk that emphasizes Jake's experience and perspective creating his amazing Steampunk Workshop projects. I'm delighted Jake took me on as his partner for this adventure and I'm looking forward to the collaboration. The final book should be an honest, sincere look at Steampunk–including the gritty "punk"/DIY part of that word–and include lots of illustrations and photographs.
Sincere thanks to Matt Staggs for his role early on as well as to Jake's agent Marc Gerald and mine, Howard Morhaim.
Update: A wonderful day at the California Steampunk convention. Chatting with Nathan from Abney Park, coffee and an interview with Greg Broadmore, dinner with Jake, Jill Roberts, Paul Young, and Gareth, the very cool editor of Make magazine. Among many other highlights. A complete report when we get back Wednesday.

(Jake Von Slatt)