September 13th, 2008
Sell Out With Us Dear Reader: Acquire Predator South China Sea and Evenson's Aliens No Exit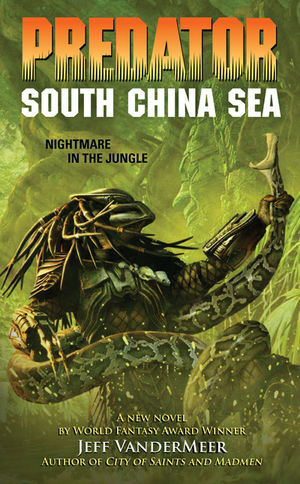 As mentioned, Minister Faust is probably going to blog right on through the weekend, and I'm going to get a few posts in as well. Like this one…
Right now, at least when I go to Amazon, they're offering my Predator: South China Sea and Brian Evenson's Aliens: No Exit, for a mere $13.98. Both novels are out in October, but you can pre-order now.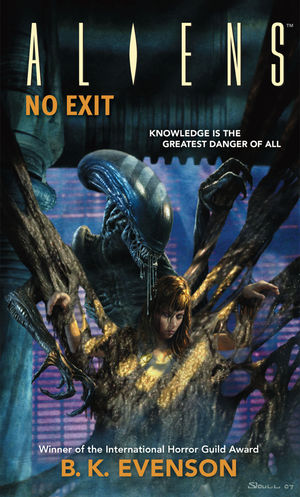 Note that Aliens novels come with fortune cookie life lessons like "Knowledge is greatest danger of all," while Predator novels come with World Wrestling Association-like promos: "Nightmare in the Jungle". Both novels are tagged as "young adult" on Amazon, but, er, I'm not sure about that, at least in my case. And, in the interests of full disclosure, there is no giant snake in my book. Sometimes it just works out that way. So consider the cover an outtake… (Also, FYI, about two weeks, my Pred novel will also be out in a Romanian-language edition.)
As you might know, Brian Evenson is the creative writing director at Brown University and an amazing writer. His novel is described thusly: "After thirty years of cryogenic sleep, Detective Anders Kramm awakens to a changed world. The alien threat has been subdued. Company interests dominate universal trade. Terraforming is big money now, with powerful men willing to do anything to assure dominance over other worlds. But Kramm has a secret. He knows why The Company killed twelve of its top scientists. He knows why the aliens have been let loose on the surface of a contested planet. He knows that the information he has is valuable, and that The Company will do everything it can to stop him from telling his secret to the world. Haunted by memories of the brutal murder of his family, Kramm is set adrift amid billion dollar stakes . . . with aliens around every corner, waiting for him to make a mistake!"
Somehow, I think there's more to it than that, just as there's more to my Predator novel than this: "On a remote South China Sea island, a deadly hunt is underway… but not the kind of expedition the participants expected. In this remote, jungle-covered island somewhere between Thailand and Indonesia some of the most exotic animals in the world have been gathered as the prizes in a challenge of human against nature. The hunters come from all walks of life. Each has come to the island for personal reasons, some secret, some deadly. But when the encampment's owner, ex-Khmer Rouge Colonel Rath Preap, finds the fences cut and his security men missing, it's clear that the game has turned. And as the hunters battle for survival, they discover there is another creature out for blood… an adversary that has faced death on a thousand worlds – a Predator with an unstoppable lust for conquest!"
For example, despite the Most Dangerous Game set-up, my novel includes: exploding rhinos, Easter celebrations, invasive alien species, valleys of bones, ancient temple ruins, Thai pirates, a 28-foot African crocodile, glimpses of the Predator home world, an explanation for those weird snake-like things on their heads, and much more. My approach was basically to think of what Predator movie I'd like to see, and then write that as a novel. Um, there is a lots of violence and a decent amount of sex. Duh.
Now, funny story, Brian and I have been linked for awhile now, in that we both were supposed to have our first books published (both story collections) from Pyx Press back in the early 1990s. That fell through, but we've been friends ever since, and so it's kind of funny to us both to be doing these tie-in novels (Brian's actually responsible for getting me the shot at the gig) and also having original novels out in the next year from Victoria Blake's new venture, Underland Press.