June 23rd, 2008
My Favorite Fantasists in the Short Story Form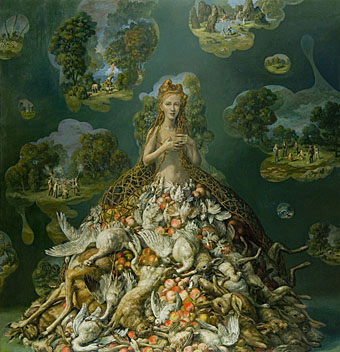 (Cover art to the amazing Tin House: Fantastic Women volume, guest-edited by Rick Moody)
In thinking about reading for Best American Fantasy, two things really stood out for me: (1) the Tin House: Fantastic Women
volume was the most spectacular single issue I read, holding up and in fact becoming more luminous and deep with each re-read and (2) most of the short fiction I've read recently that I've been most passionate about has come from female writers.
So I thought I'd post a list of the newish or under-appreciated short fiction writers I'm most excited about these days, who just happen to be women (with a few notes). These are writers who exclusively or sometimes write fantasy in all of its various and diverse forms. For me, this is where the true energy in non-realistic short fiction is coming from–and hopefully for many of them, soon, in novel form, too.
I've tried not to include obvious choices like Kelly Link, Kathe Koja, Karen Joy Fowler, M. Rickert, Theodora Goss, Ekaterina Sedia, Rikki Ducornet, Catherynne M. Valente, Margo Lanagan, Elizabeth Hand, Caitlin R. Kiernan, Elizabeth Bear, or Kage Baker, all of whom are familiar favorites to most readers. My list does not include writers known primarily for their novels. I'm also sure there are a few I'm leaving out, so please forgive me. Regardless, I highly recommend you check out all of these writers and buy the Tin House volume. It's great all the way through.
Jeff
Kelly Barnhill – romantic use of language in the best sense without being melodramatic, with a sharp and deep imagination behind it all.
Aimee Bender – sometimes formally experimental, always mischievous and curious
Kate Bernheimer – renovator of fairy tales, not afraid to get into uncomfortable places
Judy Budnitz – more removed at times, which allows her the distance to create an interesting space between situation and character; unique worldview
L. Timmel Duchamp – openly and bravely political, not afraid to play with form and structure, and should already be more widely known
Julia Elliott – skirts the edge of fantasy often, creating characters wherein the world is seen as fantastical through their eyes; a master of extended fantastical metaphor
Kelly Eskridge – dreamlike at times, sharp as nails at others, with a nice variety of approaches
Karen Heuler – naturally surreal and with a sly sense of humor, an extremely underrated writer
Shelley Jackson – brilliant stylist who experiments with structure and approach and has the skill set and imagination to do practically anything she wants
Stacey Levine – excellent pacing and unusual but successful decisions at the sentence-level support a naturally absurdist/surrealist worldview
Beth Adele Long – more traditional at times, with hints of the surreal, and a lovely prose style
Meghan McCarron – at times an unabashedly emotional style without being melodramatic, seemingly interested in the interplay of fantasy and the real world
Miranda F. Mellis – the real world is already surreal to her and thus even with a less lush style her work is rich with the fantastical
Lydia Millet – cool, calm, and the master of the perfectly turned sentence; able to find the universal and surreal in even the minute details of modern life
Sarah Monette – flirts with the traditional and the surreal depending on her whim, with a strong voice and sharp intelligence
Ursula Pflug – Canada's best surrealist, and criminally underrated, most of her best fiction weds commentary on relationships with a fantastical element
Holly Phillips – a hybrid bridging old and new, she has a traditional bent but brings unexpected psychological insight or images at times
Cat Rambo – traditional but modern, she brings a muscular style and unabashed love for fantasy to her work
Michelle Richmond – known for her realistic bestselling novels, in the short form she has an approach to fantasy in which she's not afraid to engage the sensual and perverse
Nisi Shawl – a highly various writer who can flip from a retold fairytale to something approaching cyberpunk with equal success
Vandana Singh – unusual characters, ideas, and a sensual, unique style
Rachel Swirsky – a powerhouse of ideas, imagery, approaches and dynamic writing
Gina Zucker – her story in Tin House is a disturbing, often horrifying, steely-eyed view of a girl in a kind of near-future or alt-universe sex trade, with absolute attention to specific detail and no turning away from the subject matter; I have not read her other work and cannot find a website to link to, just this online contributor bio: "Gina Zucker's fiction and journalism has appeared in numerous journals and magazines, among them Tin House, Salt Hill, Glamour, GQ, Cosmopolitan, Redbook and Rolling Stone. Her short story, "Big People," was chosen for the forthcoming fiction anthology Fantastic Women (Tin House Books, 2007) and her story "Punishment" is collected in the anthology Before: Short Stories About Pregnancy (Overlook Press 2006). She teaches creative writing at Pratt Institute in Brooklyn, NY."